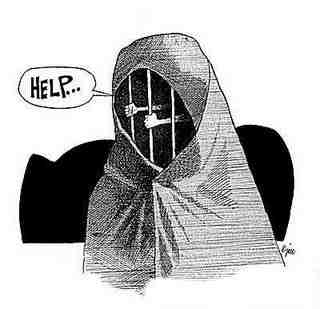 You see, the church is against abortion.  I get that.  I have no problem with that to be honest, but recently they decided to fight Obamacare in court because they don't feel like they should have to cover abortion through their insurance.  Why should the church care?  Their employees and people their insurance covers can simply NOT choose to do abortions, but is there any reason not to cover it…just in case?
The church and many people in this world feel like they have a right to limit the choices of others based on their beliefs.  I think it's time to get over this mentality.
Religious freedom you say?  Well wait until Islam tries to implement Sharia law in the US.
There are certain rights that should NOT be taken away from citizens regardless of religion.  Taking away someone's right to choose abortion is up the INDIVIDUAL, not a religious institution.  Churches need to realize the same institution of law they are trying to change protects many of the freedoms they have right now.  One day, their choices to try and limit the rights on individuals will come back to bite them in the ass.
Ref link:  http://content.usatoday.com/communities/theoval/post/2012/05/catholic-institutions-sue-obama-over-birth-control-mandate